My Luxeve
Regular price
Sale price
$20.00 USD
Unit price
per
Sale
Sold out
Product Description

Safety
Introducing our Acrylic Vegetable and Herb Garden Markers, the perfect addition to your garden for easy identification and organization! These durable and stylish markers are designed to help you keep track of your vegetables and herbs, ensuring a bountiful and well-organized garden.

Our Acrylic Vegetable and Herb Garden Markers are crafted from high-quality, weather-resistant acrylic, making them suitable for outdoor use. With their sturdy construction, they withstand the elements and maintain their clarity, ensuring long-lasting visibility in your garden.
Each marker features a clear and legible label, displaying the name of the vegetable or herb. The bold lettering makes it easy to identify your plants at a glance, even from a distance.
With a variety of common vegetable and herb names, our markers cover a wide range of popular garden plants. They enable efficient organisation and help you plan your garden layout effectively.
Not only do our Acrylic Vegetable and Herb Garden Markers serve a practical purpose, but they also add a touch of elegance to your garden. The sleek and transparent design seamlessly blends with any garden style or décor.
Invest in our Acrylic Vegetable and Herb Garden Markers to enhance your gardening experience. Keep your garden organized, simplify plant identification, and enjoy the beauty and productivity of a well-marked garden. Order now and elevate your gardening game!
FEATURES:
Our Vegetable and Herb Garden markers are 3mm acrylic and carefully prepared.

Each set includes the following 30 laser-etched markers: Oregano, Tomato, Lettuce, Thyme, Chives, Dill, Basil, Parsley, Spinach, Rocket, Coriander, Kale, Bok Choi, Carrots, Cress, Green Beans, Eggplant, Spring Onion, Garlic, Broccoli, Strawberries, Blueberries, Rosemary and Mint, Chilli, Pumpkin, Sweet Potato, Beetroot, Capsicum and Sage.
If you wish to change any of the above head to our Customisable collection where you can create your own 30 laser-etched markers.
SIZE:
Each marker is 2.5cm wide by 14.5cm tall. The set includes laser-etched 30 markers.
These are not a toy and have sharp edges. 
 
My Luxeve takes no responsibility for injuries or accidents.
Please choose carefully. There is no exchange or refund for a change of mind.

Vegetable and Herb Garden Markers | Garden Markers | Vegetable Markers | Herb Markers
Share
View full details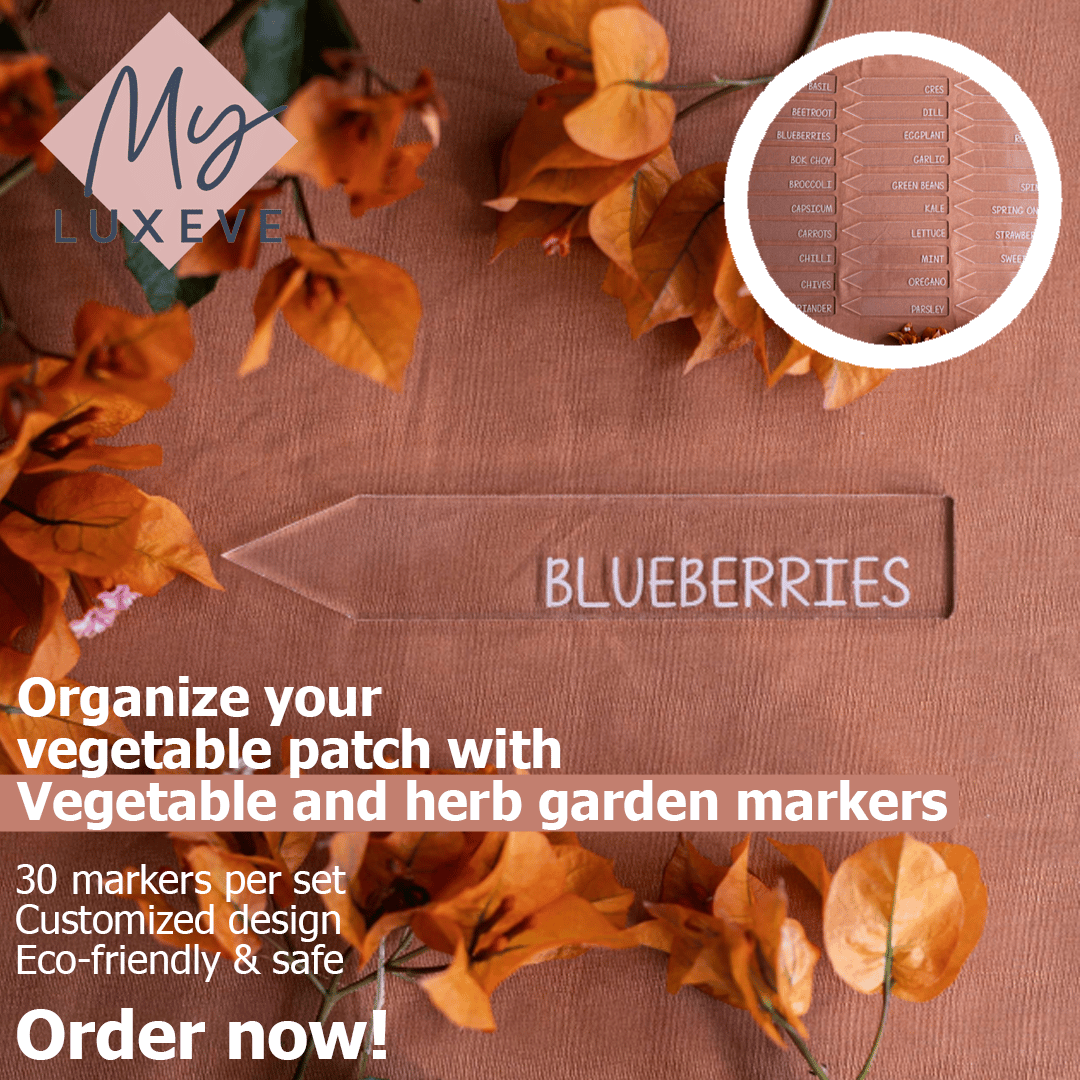 This item is exactly as described
This item is exactly as described
Great quality and lots of different vegetables/herbs listed.
Love it, exactly what I was looking for