My Luxeve
Regular price
$0.00 USD
Sale price
$18.00 USD
Unit price
per
Sale
Sold out
Personalisation
Product Description

Care Instructions
Introducing our Personalised Alphabet Learning Tracing Board - a captivating and educational resource designed to help children master letter recognition and formation in a personalized way!

Our Personalised Alphabet Learning Tracing Board is a must-have tool for young learners embarking on their alphabet journey. It provides a solid foundation for literacy skills and supports the development of fine motor skills through tracing and writing activities.
Crafted with care, our tracing board features clear and distinct letter outlines that guide children in proper letter formation. The smooth surface ensures a comfortable tracing experience, allowing children to practice their writing skills with ease.
What sets our Alphabet Learning Tracing Board apart is the option for personalization. You can customize the board with your child's name or initials, adding a special touch and creating a one-of-a-kind learning tool that is uniquely theirs.
By personalizing the tracing board, you create a meaningful connection between your child and the letters of the alphabet. This personalized approach not only makes learning more engaging but also fosters a sense of ownership and pride in their learning journey.
Our Alphabet Learning Tracing Board captures children's attention and sparks their curiosity about letters and words. The visual appeal makes learning exciting and encourages active participation.
This tracing board is suitable for various learning settings, including home, school, and early childhood education centres. It serves as an invaluable resource for parents, educators, and homeschoolers, helping children develop confidence and proficiency in letter recognition and formation.
By using our Personalised Alphabet Learning Tracing Board, children not only learn to recognize letters but also gain a deeper understanding of letter sounds, phonics, and early literacy concepts. The repetitive practice of tracing reinforces muscle memory, enhancing letter formation skills.
Invest in your child's literacy skills with our Personalised Alphabet Learning Tracing Board. Order now and watch as they progress in their letter knowledge and handwriting abilities. This educational resource is designed to make learning the alphabet enjoyable and effective, setting the stage for future reading and writing success.
Unlock the world of letters and words with our Personalised Alphabet Learning Tracing Board. Give your child a head start in literacy and make learning a personalized and empowering experience. Start their alphabet journey today!
Please double-check the font selection and the spelling of your child's name in the fields above. There are no changes once your order is processed.

PRODUCT FEATURES:
Please write on them with a liquid chalk pen or a whiteboard marker. To clean the board, wash it with water and then wipe it with a microfibre cloth. Harsh chemicals or abrasive materials will ruin the acrylic.
Made from 3mm clear acrylic
SIZE:
Size - A4
Please ensure to only write on the smooth side of the board with a pen that has been suggested. The smooth side is the side that is not backward when looking at the board. If writing onto the raised side that has been lasered, any pen will permanently seep into the acrylic, and it will not be able to be removed. This is your responsibility, and the product will not be replaced if this happens.
To avoid ghosting on the acrylic board, wash off or wipe any writing within 12 hours.
 
My Luxeve takes no responsibility for injuries or accidents.
Please choose carefully. There is no exchange or refund for a change of mind.

Personalised Alphabet Learning Tracing Board | Tracing Board | Tracing Board for Kids | Alphabet Tracing Board | Alphabet Recognition | Educational
Share
View full details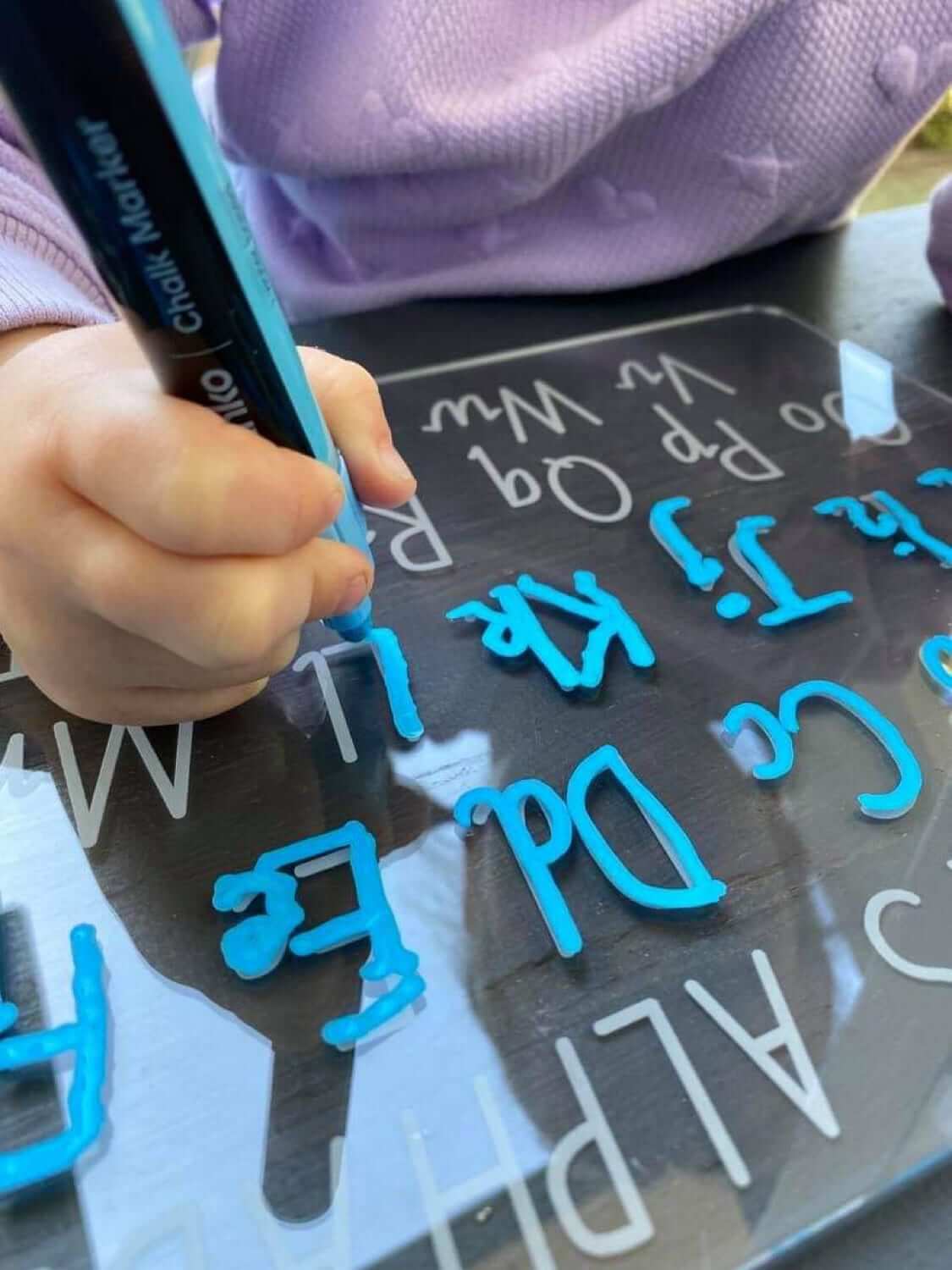 My grandson has shown a reluctance to practice his letters and this purchase has excited him. Great service too
Excellent customer service, thank you so much